Bio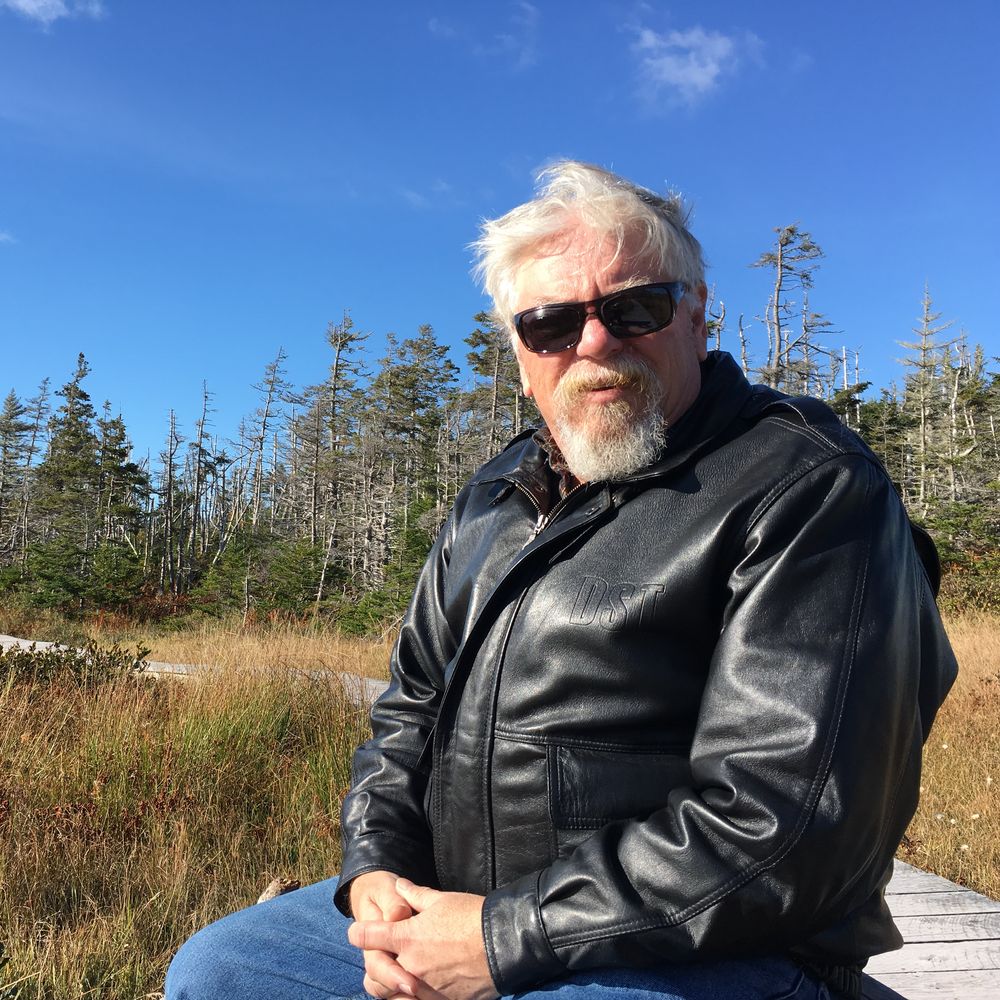 R C Burns
Hi there. My name is RC Burns and I'm a singer/songwriter living in Kenora, Ontario Canada (home of the 1907 Stanley Cup Champion Kenora Thistles - look it up if you don't believe me). I'd like to tell you a little bit about myself and my music.
I was born in Toronto but grew up in Wasaga Beach, a small tourist town in Southern Ontario, Canada. In 1967 when I was 12, I met JK Gulley and we became best friends.  JK was a budding guitar player and although I took up the guitar as well, his abilities left me far behind. I kept trying but knew early on that I wasn't going to be a guitar virtuoso.
While we were in high school in the early 70's, I tried my hand at writing lyrics since it was pretty obvious I wasn't going to be a great guitar player. In my mind the lyrics didn't turn out too bad, so I asked JK if he could write melodies to go with them. Our high school songwriting team was born. We wrote lots of songs during that time – mostly bad, but we were prolific. We even put together a binder that had all of the lyrics and chords written out with the title "How to Make a Million Dollars Songwriting".  JK still has that binder. Never did see that million dollars.
After high school JK and I took different life paths although we kept in touch. JK went into music fulltime becoming an award-winning singer/songwriter, musician, producer and mentor to other artists. I went off to college, graduating on the Dean's List from the 3-year Resources Technology program at Georgian College in Barrie, Ontario in 1978. I married my wife Theresa right after graduation and we have now been married for over 44 years.
After college I spent over 40 years as an environmental professional, working in government, as a consultant and in private industry. My first job after graduation was as the Development Coordinator for the Ontario Ministry of Natural Resources at Wasaga Beach Provincial Park, building roads, trails and park amenities.  
In 1979 we moved to Kenora, Ontario where I became a Senior Environmental Officer for the Ontario Ministry of the Environment (MOE). I had a large territory to cover which ran from the Manitoba border on the west to the Town of Ignace on the east and from Minnesota in the south to Hudson's Bay in the north. I was responsible for monitoring industrial and municipal sources of pollution within the area. I worked with the MOE until 1991 (mostly in Kenora with an 18 month stint in Belleville), when I transferred to the Ministry of Northern Development and Mines (MNDM).
I started out as one of the first Mine Rehabilitation Inspectors in the province. I inspected operating and abandoned mines for mining hazards and reviewed and monitored mine closure plans throughout the province. My work also involved the development and documentation of Ministry policies and mine closure legislation and regulations.  A couple of years later I was promoted to the Provincial Mine Rehabilitation Specialist. The promotion required me to move to the Ministry's head office in Sudbury so we sold our farm in Kenora and moved to a 160 acre property near Noelville, which is just south of Sudbury in the French River area.  
In 1996 I left the civil service to try my hand at consulting. I became a partner in a small consulting company called Kirtec Resources. I managed the company's environmental projects which were mostly related to mining operations. Our firm was taken over by a larger consulting company (Golder Associates) and I spent my time with them managing environmental projects as a Senior Environmental Specialist.
After working on projects that took me to such exotic places as Peru,  the mid-west US, Labrador and the Northwest Territories, I decided that spending weeks and months away from home and my family wasn't what I wanted in life. Fortunately a new wood products manufacturing plant was opening up in Kenora and by chance I saw their ad in the Globe & Mail while I was in the Toronto Airport, waiting for a flight to Labrador City. They were looking for an Environmental Manager – just up my alley.
To make a long story short, or at least shorter, I applied and after doing a telephone interview over a satellite phone from the tailings area of one the iron mines in Labrador and pushing the crew to finish the project we were working on so I could get a last-minute flight to Kenora for my in-person interview, I got the job. We started up the new plant in 2002 and I managed the environmental and energy conservation programs there for close to 16 years. In late 2017, I decided to retire and live a life of leisure.
The life of leisure never quite materialized. I now seem to be busier than ever doing a little songwriting, playing bagpipes with 2 different pipe bands, writing fiction and non-fiction pieces, building cedar strip canoes and kayaks, completing home renovation projects and cruising on my motorcycles.
It's funny how hobbies and side-interests can sometimes take over your life. I have been riding motorcycles all my life, inspired by my dad being a motorcycle dispatch rider in the Army and a member of the Signal Corps motorcycle display team, the "Canadian Daredevils" in the 1950s. I have 2 motorcycles that I cherish and ride regularly; a vintage 1979 Yamaha 650 Special II and a 2009 BMW K1200LT. My wife tells me I can't buy anymore unless I get rid of one or more of the ones I already have.
In the mid-80's I began taking bagpipe lessons, something I had wanted to do all my life. Lessons turned into becoming a member of the local pipe band and I have been playing pipes ever since. In early 2023 I retired from the competitive St. Andrews Pipe Band in Winnipeg and was promoted to Pipe Major of the Kenora Scottish Pipes and Drums.
Although I've been songwriting most of my life, I've also taken up the pen in the last decade or so to write short fiction, novels and non-fiction pieces. I've had several short pieces published and am currently working on 3 different novels, numerous short stories and I regularly contribute to a local magazine.
I fell in love with canoes while I was in high school. My grade 12 shop project was to build a 16' fiberglass canoe. When I moved back to Kenora in 2002, I found a group of guys who were interested in building cedar strip epoxy canoes and over a period of a few years we managed to build 5 canoes in my workshop. A few years later, I recruited another crew and we built 6 cedar strip epoxy kayaks. If all goes well, there might still be a few more boats to come out of my workshop.
So how did this recording project get started? In early 2018 I was facing a bit of a dilemma. My 40th wedding anniversary was fast approaching and I had no idea of what to get for my wife Theresa. After much contemplation, I remembered that I had written a song about 20 years earlier that would fit the occasion well but I didn't have a good recording of it.
I got in touch with JK to see if he would record it professionally for me so I could give it to Theresa on our anniversary. He persuaded me to sing the vocals myself and after finding a stand-alone 8-track recorder we managed, over the internet, to make a quality recording of the song "Rock of My Ages". The song was a hit with Theresa and it is included on my debut album.
After the song was completed, JK asked if I had any other songs that would be worth recording. I sent him a selection of songs to check out and within a couple of weeks he came back and asked if I had ever considered doing an EP or an album. Even though it had been a lifelong dream I hadn't thought it would ever happen, but I said "what the hell – let's give it a go." My debut album "Full Circle" was completed and released in 2021.
During the album's production my guitar playing and vocals were greatly improved under JK's tutoring. Without JK's encouragement I never would have imagined that my vocals and guitar playing would be good enough to be part of my own album.
My debut album features 13 original songs, 2 of which were co-written by JK. Some of the songs were written 20 or 30 years ago and some are brand new. The songs are a mixture of country, country swing, singer/songwriter, Canadiana, folk and some are just for fun. My songwriting influences are quite diverse and include John Prine, Stan Rogers, Steve Goodman, Gordon Lightfoot and a host of others.
The theme of the album "Full Circle" is a reflection of the over fifty years that JK and I have been writing songs. The title track "Full Circle" expresses the sentiments of how our long lasting friendship has impacted our lives. Love, family, friends, good times and bad are all inspirations for these songs.
I've had a lot of fun working with JK on this project and the whole process inspired me to continue songwriting and getting my music out in the world. I hope you'll have a listen and enjoy these songs as much as I've enjoyed creating them. There will be new music from me in the future. I will keep you posted.